And let us consider how we may spur one another on toward love and good deeds, not giving up meeting together, as some are in the habit of doing, but encouraging one another—and all the more as you see the Day approaching.
– Hebrews 10:24-25 NIV
WELCOME TO REDEEMED CHRISTIAN CHURCH OF GOD
With a passion and zeal for the lost and hurting world, our church is divinely called and scripturally ordained ministry that has been provided by our Lord for a twofold purpose: The evangelization of the world, and the edifying of the Body of Christ (Mark 16:15-20)
RCCG MINISTRY IS BASED ON FOUR TENETS
Solution Centre; Where the Word Changes your World!!
Transforming lives; Restoring Hope.
Nurturing lives; Empowering Humanity.
Reaching, Retaining, Raising, Releasing.
SERVICE TIMES
Sundays at 9:00 am to 12:30 pm
Wednesday at 5:30 pm to 7:15 pm
New Sanctuary.
LOCATION
We are located at Mbagathi Way
Matatu Route 16
Opposite Armed Forces Memorial Hospital
To Make Heaven
To take as many people with us
To have a member of RCCG in every family of all nations• To make heaven, holiness will be our lifestyle.
• To take as many people with us, we will plant churches within five minutes walking distance in every city and town of developing countries and within five minutes driving distance in every city and town of developed countries.
We will pursue these objectives until every nation in the world is reached for the Lord Jesus Christ.
We believe that the entire Scripture, both Old and New Testaments are written by the inspiration of the Holy Spirit – II Tim. 3:16-17. All the Christian teachings and the Christian attitude of the Children of God are such as are established in the Holy Bible – II Tim. 3:10-15; II Peter 1:21; John 17:17; Ps. 119:105.
We believe that the Bible is the written and revealed Will of God. It reveals Man's position to God, the way to obtain salvation, the Woe and destruction awaiting sinners that refuse to repent and the everlasting joy that is kept for the born again souls. All the Bible teachings are holy. What the Bible reveals as the will of God is what we should accept. And whatever God writes in the Bible and His Law are to remain unchangeable; for the Heavens and Earth may pass away but the Word of God stands forever. Deut. 4:22; Rev. 22:18, 19; Matt. 24:34-38.As revealed unto us by the Bible, we believe that there is only one God, Who is the Creator of both visible and invisible creatures -Gen. 1:1; Ps. 86:9-10; Is. 43:10-11; John 1:1-3. Only God will be in existence forever. Ez. 3:14; in God every creature receives life -John 5:26.We believe that He is the Son of God; Who took away our sins, and the Savior of the world. We also believe that Jesus is God and was born by Mary the Virgin. He is God revealed in the flesh. Through Him all things were created. John 1:1-14; John 14:9; Matt. 1:18-25, Is 9:6; Is 53:5-6.
We believe in His death on the Cross, and resurrection, by which He brought redemption – Is. 53:4-10; I Pet. 2:24; John 10:11; Gal. 3:13, Matt. 20:28; I Cor. 15:3; Rom. 4:25; II Cor. 5:14; Heb 2:9; Heb 9:26The Holy Spirit is the third Person in the TRINITY. He has the same power, the same glory with God the Father and God the Son – John 14:16-17; John 15:26; Matt. 3:16; Acts 13:24. He is one with Father and the Son who is to be worshiped and served. Three Persons that become one are the source of blessings to all the living creatures in Heaven and on earth – Matt. 28:19; II Cor. 13:14; I John 1:5-7.
The Holy Spirit has a great work to perform. He Teaches, He Speaks to men, and bears witness in us – Acts 16:6-7; He performs the work of regeneration for man- John 3:5-6; He also performs the work of Sanctification in the born again souls until they are fully sanctified – John 16:8; Eph 1:17-19; II Thess. 2:13; I Cor. 6:11. This same Holy Spirit endows believers with gifts they can use – I Cor. 12:7; He empowers one in the Lord. Acts 1:8.
We value the pursuit of God. We thirst for His presence and to know more of Him through private and public worship, the Word and prayer. Psalm 42:1-2, 63:1-3; Matt 5:23; Luke 6:21
We value Christlikeness. We want to be like the Lord and savior in all conduct. We want to minister by serving people the way He did with compassion, under the power and anointing of the Holy Spirit. We shall convey the love, mercy and power of God through the ministry of the church. Luke 14:16-20; John 20:21; Ephesians 5:2; Colossians 3:12
We value godly family life where parents live as examples and cultivate an environment in which the spiritual, emotional and social growth of their children can be fully accomplished. Deuteronomy 6:7; Proverbs 22:6; 2 Timothy 3:15
We desire to worship God in spirit and in truth in our private and public worship. The LORD only shall be the object of our worship. We seek to hear from God and also desire the presence of His glory in our gatherings. 1 Kings 8:11; 1 Chronicles 16:29; Psalm 96:6; John 4:23-24; Revelation 22:9
We desire to live holy, sanctified lives such that at any time we are able to hear from God and receive His blessings. Psalm 16:1-2; Leviticus 11:45; 1 Corinthians 1:30; 2 Corinthians 7:1; 1 Thessalonians 4:3, 5:23; Hebrews 12:4.
We desire to be led all the time by the Spirit of God such that we are always able to do His will. Romans 8:14-18, 12:1-2; Ephesians 5:17, 6:6
PRAYER
Worship and praise with psalms, hymns and spiritual songs. To surrender our lives to worship God for His purpose. To praise God in all circumstances for His mercy and goodness. Romans 12:1; Colossians 3:16; Psalm 34:1
Giving prayers with petition and thanksgiving. Philippians 3:6
MARRIAGE AND FAMILY LIFE
Marital relations should be pure, and free from sexual immorality. Hebrews 13:4
The husband's love for his wife should be like Christ love for the church. Ephesians 5:24-27
IN THE CHURCH
We believe that in the church it is necessary for members to continually do the following:
To share our conversion experience with others. Matthew 28:20; 5:14-16
To give counsel from God's word to encourage others. Colossians 3:16; Ephesians 4:15
In July 1909, a son was born into the Akindayomi family of Ondo State of Nigeria. Even though this child grew up surrounded by idol worshippers, he knew there existed a greater power and yearned to know, "The God who created the earth and everyone on it". This pursuit for God led him to the Church Missionary Society where he was baptized in 1927. Still spiritually unfulfilled, he joined the Cherubim and Seraphim church in 1931.
Whilst there, he began to hear a voice within him saying, "You will be my servant." Since this was not his intention, he decided to ignore the voice. This went on for seven years during which all the business ventures that he tried resulted into failure. In debt and without peace of mind, he found himself totally dependent on the grace of God. Here marked the beginning of a definite relationship with God.Totally broken, he yielded saying, "Lord, I will go wherever you want me to go." He asked for signs to confirm that this was indeed God's call.
THE GENERAL OVERSEER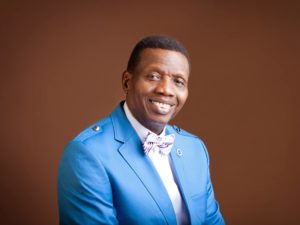 The General Overseer (G.O) of the Redeemed Christian Church of God (RCCG) Pastor Enoch Adejare Adeboye is a man of God, who has been a tremendous blessing and inspiration to numerous people and drawn lost souls to salvation by the grace of God.
Although he leads one of the fastest growing Christian Churches in the world today, majority of the flock he ably shepherds apart from calling him Daddy or Father in the Lord know little or nothing about him. This is probably because of a philosophy which he seems to emphasize of the power and glory of God in all that he does, rather than highlight his own personal achievements or contribution to the phenomenal growth of the church and the body of Christ. As he will say whenever commended, "Glory be to God."
In any case, the humility of Pastor Adeboye is well-known and reflected in everything that surrounds him. It has also become the hallmark of The Redeemed Christian Church of God, which he has led since he was appointed the head of the Church in 1981. This piece is an attempt to bridge the gap regarding necessary information about the General Overseer. The intention is that the members of his congregation as well as other Christians and Non-Christians alike can learn something about his life, humble beginnings, relationship with God, career and Christian ministry, and also that it is only through total dedication and commitment to God that man can achieve true holiness and elevation.
PASTORS PRINCE & ESTHER OBASI-IKE Ph.D
Pastor Prince Okechukwu Obasi-ike was graciously made to know the truth about his sins and God's sacrifice for his redemption in March 1982 at the Campus of The Federal Polytechnic Bida Niger State in Nigeria while he was studying Banking and Finance. God used Pastor William Oloyede, then a student of Business Administration, to preach Christ and forgiveness of sins to him resulting to the conviction of sin and need for the Saviour.
He repented of his sins and accepted Jesus Christ as Lord and Saviour. Since he received salvation and became a follower of Jesus Christ in 1982 he has not looked back. Not long after his salvation even as a young convert, the Lord revealed to him that he was going to serve God full time and across the nations of the world even though he was studying Banking and Finance which was then and even now a lucrative course in Nigeria. He presently holds a Master's Degree in Pastoral Theology.
Pastor Esther and her husband, Pastor Prince Obasi-ike, have been the pioneer missionaries of The Redeemed Christian Church of God in Eastern Africa Mission since 1995.
Pastor Esther gave her life to Christ in 1984 and was elected into Christian Union leadership in 1987. In 1996, after a succession of career growth opportunities ranging from accounts, marketing and management in various organizations, she joined her husband Pastor Prince Obasi-ike in Kenya and the two became the pioneer missionaries of RCCG Eastern Africa. She was ordained a pastor of RCCG in 1997. She doubles as both the co-founder of RCCG East African Mission and the pastor in charge of RCCG Solution Family, Nairobi which has over one thousand members. She is also the Founder/President of the Queen Esthers' Generation (QEG), a dynamic interdenominational women's movement with its headquarters in Nairobi, Kenya.